2013
9th Dec 2013

Stairway's - 'Christmas Merry Christmas' Single is available now, click on Youtube above for a sample of the track.

Download the Full Version from itunes and Amazon.

5th Dec 2013

In the Stairway store here there is 10% discount off everything, just use the code TENOFF in the promotion box when checking out - Offer ends 24th of December 2013.

28th Nov 2013

Stairway is featured in issue #61 of Fireworks Magazine due out 18th Dec 2013 and available in the UK from all good newsagents - Or click on the cover below to buy from the magazine's website.

Adding all the recent votes together for a 2nd track to feature on a magazine cover CD, the track 'Born to Die' comes out on top - it will feature some time in 2014 - thanks for your votes .
20th Nov 2013

Need your help!

We have the chance of a 2nd track feature on a magazine sampler CD,which track would you choose that best represents Stairway? Suggestions in the forum here :-)

18th Nov 2013

Impromptu live appearance

We were all recently at Pete's wedding where his band played during the evening celebrations - we were ask if Stairway would be playing and thanks to the resident band, we got up and did an impromptu 3 tracks, totally un-rehearsed - and what made it all the more exciting is we managed to drag Rob up on stage to do a number, the 1st time he's played in 5 years. Below is a 50 second clip taken on an iphone - sadly Rob isn't on the clip, but there are some pics of the four of us HERE click on the folder 'and then there were four'

28th Oct 2013

Check out the brand new Stairway forum where you can discuss everything about the band Click here to visit.

24th October 2013
24th of October is the 35th anniversary of the founding of Stairway.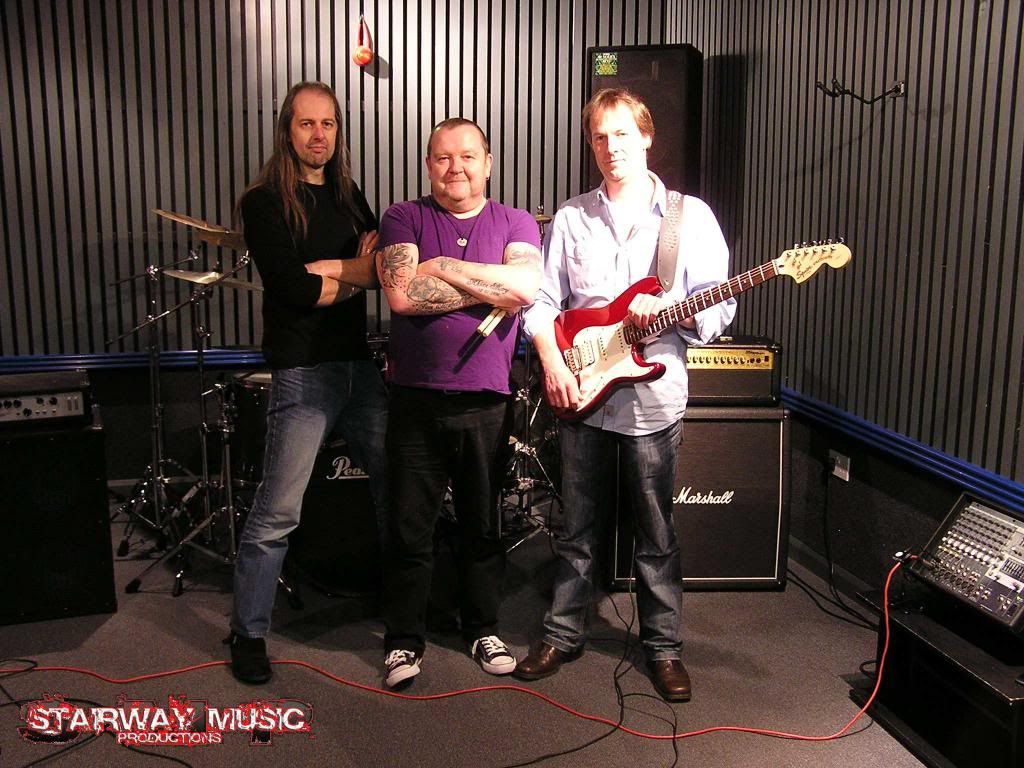 ....and still rockin'!
October 22nd 2013

IMPORTANT REQUEST!

We had a problem with our address book where some contacts disappeared!

If you're on the Stairway mailing list and would like to continue receiving the newsletter, please send your current email address to stairway.deoduce@outlook.com - many thanks!
---
October 15th 2013

We have just opened a Brand New Store for CDs and T-Shirts click on the link and check it out - If there are other items you would like to see and buy in the store please email us here and we'll see about adding them.

October 4th 2013

Here's a brand new video for the track 'She Calls' taken from 'The Other Side Of Midnight' CD

September 25th 2013

Here's the latest news from Andy regarding his on-going shoulder problem:

"Sad to say, I think it's official. I'm going to need surgery on the shoulder problem that's slowing the latest album down.........Gutted is not the word!!!! Andy"

September 9th 2013

Thanks guys for helping us get to number 2 in the local Metal Charts for Nuneaton

August 23rd 2013

Andy's been referred to specialists for more tests and scans on his shoulder; we're hoping everything will have a positive conclusion, so things on the new record have slowed; all the songs are written and half recorded, we just need to finish up as and when Andy is back 100%. Please keep him in your thoughts and prayers.
Graeme has begun writing songs for the next record, so the band may do two in a relatively short space of time.

Thanks as always for all your support and encouraging comments - You All Rock!
August 11th 2013

Andy was back in physio - hotly pursued by a strange bird, no not that kind ;-)

July 9th

Here's the latest from Andy -

"Back to physio on Thursday, hope they can do something. Shoulder felt better last week so I reduced the painkillers and it's worse than before now. Grrrrrr.
Got to be confident they can do something, I can't live without being able to drum."

July 4th

Watch out for the Stairway track 'Enter The Light' in a forth coming issue of the Fireworks Magazine sampler cover CD - You can purchase the magazine from the following link - www.rocktopia.co.uk/

June 25th 2013

Thankfully, things with Andy's shoulder are improving, here's a message or should that be massage, from the man himself:

"Just been to physio. Shoulder is on the mend. Be back drumming soon I hope \o/"

May 24th 2013

Hello everyone,
some up-to-date news.

Recording on the new album is coming along - slowly but surely - we say slowly but surely for a particular reason; Andy has a chronic shoulder problem which he's suffering with, he was hoping it was just a cramp and has been working through it aided by pain killers, but it seems to be something more; some days he can't lift his arms above his shoulders and finds it difficult to do the simplest of things at times; he is under the doctor but nothing conclusive has been suggested as to what the problem is.

We've fitted in recording when he has good days and in not too much pain, and shall continue this way when he feels up to it.

Hopefully, and God willing everything will be sorted out and he will be fit, pain free and back to his old self.

We ask that you keep him and the band in your thoughts and prayers.

Andy, Pete & Graeme.
---
May 17th 2013

Have a listen to some samples we have posted on our Sound Cloud page for a taster of what's going on with the new record - let us know what you think :-) New Album Samples

No Rest:No Mercy album is now also available to download from iTunes, Amazon. and CD Baby http://cdbaby.com/cd/stairway4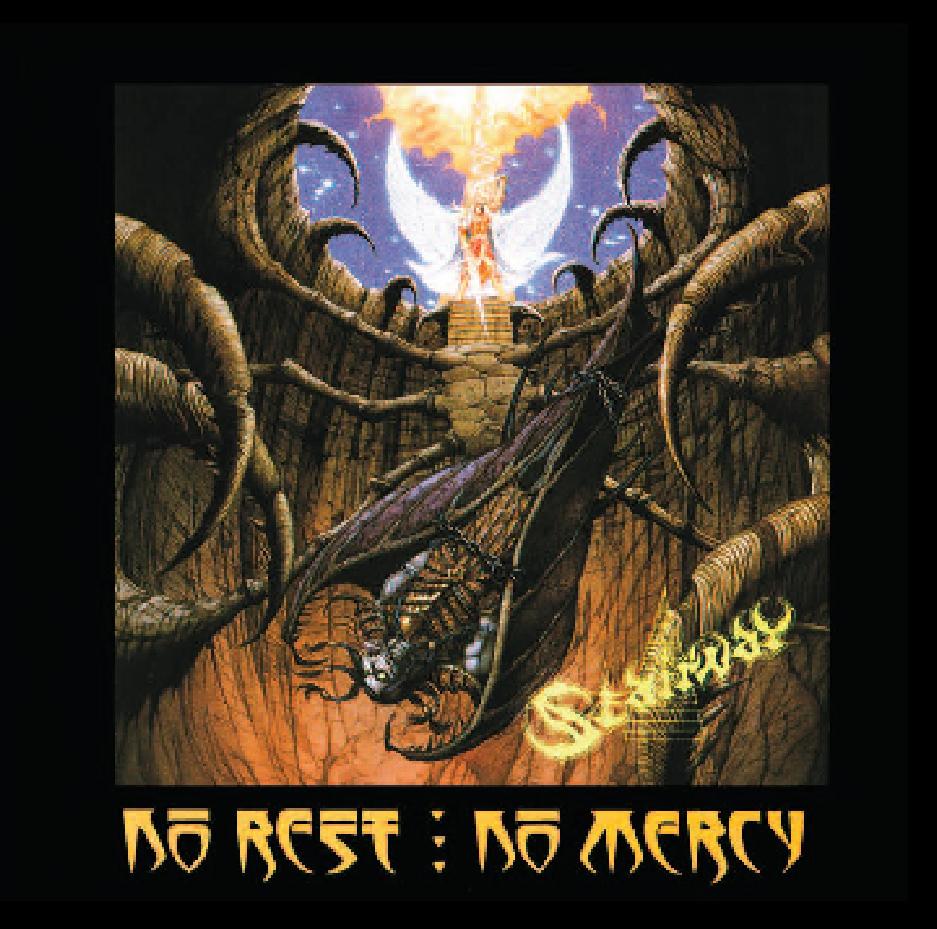 ---
March 1st 2013

There are two videos of Stairway Live at Full Metal Osthessen Germany 16th Feb 2013 on the Official You tube site Click here

Feb 18th

Full Metal Osthessen 2013 - February 16th & 17th - Weekend Goings On!

We started off not too early on Saturday morning heading for Birmingham airport to catch a 12:50pm (GMT) Lufthansa flight arriving in Frankfurt at around 3:25pm local time; we were met by Christian at the airport and travelled a 110Km journey to the venue - Wow those roads are perfect!!

Andreas met us on arrival and took care of our equipment after which we settled in to our hotel rooms, and then enjoyed some of the bands on the bill, drinking a few beers and enjoying a late lunch - chatted with a few guys we hadn't seen for a number of years when we played Metalfest in 2005, after which we prepared ourselves for the gig.

Went on stage at around 11.30pm and had a blast on stage; thanks to everyone in the audience for your enthusiasm and headbanging!! and to everyone we met and talked with after the gig, you're all stars!!

Set List:

Battle of Heaven
Under the Gun
Spirit of Guilt
Black Be The Night
Lead Us
Stop The Pain
And The Righteous Shall Be Saved
Red Alert
Bondage
Black Night (Deep Purple cover)
Tie Your Mother Down (Queen cover)
Walk Away
Fly With The Spirit
Death & Destruction
Great Whore of Babylon
What Lies Within
Anybody There
Wishing Well.

Packed our stuff up and left the venue at around 1.45am (local time) and walked to the hotel only a couple of minutes away - man it was dark!!

Awoke on a cold and misty Sunday morning, had a lovely breakfast of coffee, tea, orange juice meats, cheeses, bread rolls, eggs; thanks to our lovely hostess who got up early to prepare for us :-) - we were then driven to Frankfurt airport for our 11.20am return flight home, arriving back at Birmingham airport around 12.50pm (GMT) to a bright sunny morning.

Thanks to everyone at Full Metal Osthessen who made us so welcome: Andreas, Christoph, Christian our driver, all the staff, stage hands, sound guys, lighting guys and most of all, you the fans, it was a real honour to be able to come and play again in Germany - hope to see you again soon! :-)

Thanks a lot!

Pete, Andy & Graeme.