Album Reviews
Power and Glory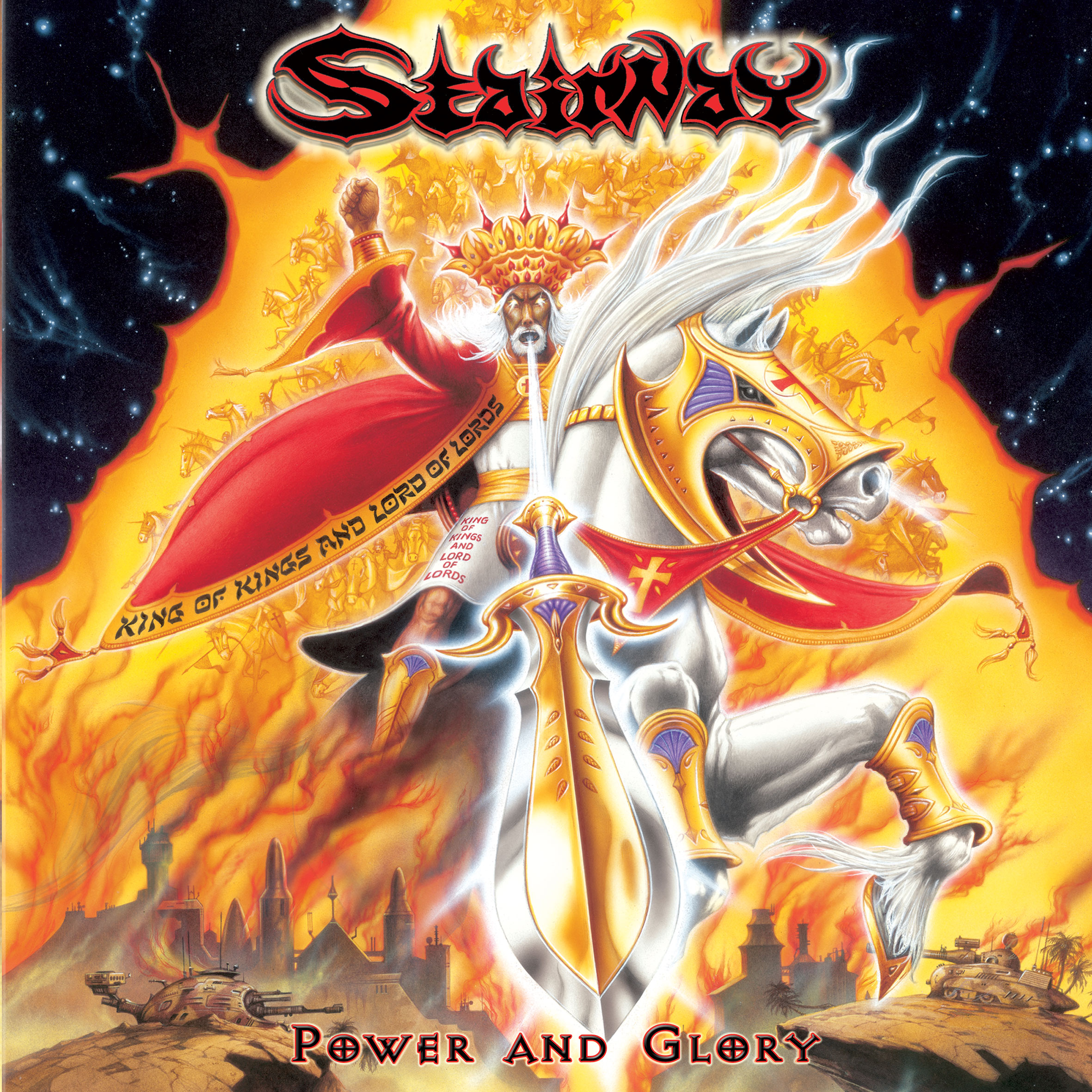 Power and Glory Review from Mauce in the Netherlands -
http://mauce.nl/site/stairway-power-and-glory/
Power and Glory review from The Warhead -
"Stairway comes back very strong! Their last album , Interregnum , was a disappointment to me. The production was skimpier than Beyoncé's clothing and it just failed to excite me (the cd , not the clothing...). Now , sporting an UNBELIEVABLY cool Rodney Matthews cover , the Brits are back and have made a statement! The production is much improved and the vision is sharp. Lead guitars , courtesy of Pete Jennens , are running WILD on this one ,often with not only extended soloing , but all songs have more than one lead break , save for the two short atmospheric intro's. Graeme Leslie is unmistakable on the lead vocals and I consider this his best effort. His bass playing also grabs your attention on a number of songs. Andy Edwards on drums is solid and that rounds out the now three piece outfit. Godly , thought -provoking lyrics ,as sadly is not always the case in today's "Christian" music , are prevalent here. (ALWAYS a plus!!!) SO ,stay OUT of the fire and get this release , cause it SMOKES! Check out "Lucy Fuhr" , "1917- Fatherless Child" , "A Mind Insane" or the epic 16 minute " Sun Of Malachi" to verify , please..............."
Power and Glory Review from Angelic Warlord -
http://angelicwarlord.com/reviews/s/stairway16.html
Interregnum
Veteran Brit trio Stairway are another of the umpteen classic rock outfits who many on this isle appear to have been denied the liberty of listening to, due to ignorance by certain mainstream rock rags, one beginning 'K' coming to mind as usual.
Stairway, now on their fifth elpee, are consistent from start to end, serving traditional 70's British hard rock on a plate and enjoying every second of it as we do, along with them. 'The Suffering Servant', 'I'm Calling', Born To Die', 'New Life', 'Enter The Light'. and 'The Battle's Over' feature timelessly built hooks and solos from messrs Leslie and Jennens respectively and inject an overall flavour that smacks brilliantly of defunct UK old-schoolers Demon and Dirty Deeds.
Strong, if not exactly complex song arrangements keep up the interest factor right across the span, and the disc on substantial repeat plays before the review is finally completed. Excellent stuff from another outfit that we deserve to hear a lot sooner, that we do.
9/10
By Dave Attrill
Art For The Ears

www.artfortheears.nl
Back in 1993 Stairway debuted with No Rest : No Mercy with artwork made by none other than Rodney Matthews (who also worked for Magnum & Seventh Angel).
For their fifth album the band decided to work with Matthews again, resulting in a beautiful cover depicting the four riders of the apocalypse. Though I don't see a connection between the cover and the lyrics, it fits the music on Interregnum.

This is possibly the heaviest album from the band in years, perhaps even their best. Musically the band plays hard rock/metal with roots in the eighties. Some of the songs are more in the hard rock vein, like the beautiful 'I'm Calling' with a chorus you can sing along to easily.
On the other hand there are heavier tracks in the heavy metal tradition. One of these highlights is 'Enter The Light', which could have been a song from Saint with its dark riffing and energetic tempo.
The musicianship of the artists is beyond doubt. Just listen to the guitar solos in 'I'm Calling' or the bass work in 'Enter The Light'.
If you appreciated previous Stairway albums, you should certainly check out this new one. If you're into classic hard rock and heavy metal, with great melodies, lots of well played solos, and good, clear singing, Stairway is a name to remember.
The Metal Page
When opening the parcel the positive shock came first. What a great coverartwork!! Rodney Matthews at its best like he did for the first album from STAIRWAY.
By watching this killer-art its quite difficult to move to the CD/LP-player and start the album, but when its done the next positive surprise is waiting. Musically STAIRWAY are moving back to the 80s too. High class Melodic Metal/Hard Rock between SARACEN, MAGNUM and PRAYING MANTIS as we are used to it from this band is celebrated through all the songs.
In my opinion "Interregnum" is their best album although all the others are strong too. Maybe the sound could have been a bit more clear and powerful, but I guess this was caused by lack of money. Studio production still is expensive today, so I hope this album will sell very well. The band deserves it.
No need to talk about a song in special. You will find a lot of really exciting songs and moments. G. Leslie's great talent is shown everywhere but to put something out, maybe most impressive in the really great ballad intro of "Born to die". There are a lot of good vocalists around, but its a matter of feeling too, and he definitely has plenty of it.
So if you are a fan of great 80s melodic Metal and your collection needs more stuff beside the mentioned albums and maybe others like DEMON, CITY BOY, AXE....you have no other choice than to hunt for "Interregnum".
Stefan Riermaier
---------------------------------
The Metal Resource Webzine
If you like to be into the latest trend, then you might as well do us both a favour and go off now. Iron Maiden has effectively been playing the same style since 1979 and they generally don't get slagged off in their reviews. Unlike other reviewers I'm not about to rip Stairway apart for playing classic NWOBHM metal.
Reflecting the fact that this is classic eighties metal, the artwork is by Rodney Matthews who has done many of the album covers for Magnum The band comprises Graeme Leslie (lead vocals & bass), Pete Jennens (lead guitar) and Andy Edwards (drums). The album is very faith orientated in a time when Christianity seems to be under attack by political correctness. With 'The Suffering Servant' being about Jesus' final night and what was to follow in 'The Shadow Of The Cross'.
One of my favourites is 'Born To Die' with a long atmospheric start before upping tempo and riffage ensues "Born to die - yet saved to live/ Do not cry - the Saviour gives/ Born to die - yet saved to live/ Do not cry/ Hear Him calling - so surrender/ No more lonely nights for evermore".
Then that galloping rhythm used by Maiden rears its head in 'Ride The Wind'. Another stomper is 'Enter The Light' with its apocalyptic visions that ties in nicely with the cover artwork. With a clear proclamation of faith in 'The Battle's Over' is "The final war is won/ He holds the keys of Heaven/ Adorned, the wedding feast/ Is clothed in Truth Eternal/ I see the changing tide/ I see new life emerging/ I feel the breath of God/ Is come with Life Eternal".
Proving that heavy metal doesn't come with an age barrier AND it isn't a passing phase, I hope that Stairway will continue to live life loud.
Rating: 7/10
Reviewed by Peter Willoughby
----------------------------------
For those who've ordered this CD, you're in for a surprise. I'd put it as their best so far - although it's a close call, as No Rest No Mercy has always been my favourite Stairway album since I first bought it back in the 90's. But Interregnum has now become my favourite. It is consistently good throughout, and I never skipped any track all the way through from 1 to 11, which is quite a rare thing for me.
Musically it's the best they've done, being slightly slower than No Rest No Mercy and a similar pace to their other albums - but this time the music is beefier and more powerful, and the hooks are there in abundance. Vocally it's great too, as Graeme shows his versatility, just look at Fear & Lies (probably my favourite track) and Born To Die, and this time round there seems to be more power to his vocals than in previous albums. And another good thing is in it's Christ centred lyrics.
I'd very sure it will be in my top 3 albums of the year (along with Theocracy and Saint).
Top stuff, Stairway.
Fundy.
---
The Other Side Of Midnight - Reviews
Rock Something
www.rocksomething.com
Every once in a while you need an album like this - the kind of record that joyfully ignores all the current trends (so that will include eyeliner and inaudible screaming then) and just rocks on in exactly the way it wishes to.
Ok, so you probably won't be bumping into anybody that's wearing a Stairway hoodie any time soon - but "The Other Side of Midnight" is a charming listen all the same.
At times sounding very similar to Tony Martin-era Black Sabbath, with a clump of the Iron Maiden gallop thrown in for kicks, if kids had this on their iPods rather than the typical wayward bullshit, then they'd probably smile every now and again.
Lords Of Metal
www.lordsofmetal.nl
Even though Stairway has been around since 1993, this is my first acquaintance with this British band.
After hearing this fourth album, I must say that I'm pleasantly surprised. That's because Stairway's music is strongly influenced by the heavy metal from the eighties, which is exactly what I like.

Stairway's music strongly reminds me of the later Black Sabbath albums in the time of Dio, but especially Tony Martin. The first two songs are NWOBHM-songs in the vein of Saxon with a slight touch of AOR. But from the third song 'Burn' on, the name Black Sabbath and Tony Martin constantly pop into my head. That's partly because the voice of singer/guitarist Graeme Leslie comes rather close to Martin's from time to time.
The heavy metal that Stairway produces on this album is of the kind we don't hear that often anymore. The melodic heavy metal with powerful guitar riffs and tons of solos sees to a beautiful, almost nostalgic atmosphere.
These gentlemen have managed to approach the atmosphere and the feeling of ancient heroes like Black Sabbath, Saxon, Iron Maiden and Malmsteen very well.
With 'Burn', 'Lead Us', 'Taste The Blood' and 'Pray For The Children', this cd contains a few strong songs. The rest of the songs are almost of the same high quality and with 'My Life Goes On&ldots;' Stairway proves that hard rock and metal bands write the best ballads.
'The Other Side Of Midnight' is, partly due to the powerful and clear production, a pleasant album to hear. Fans of old-school melodic heavy metal should give this album a listen.
Snakepit Magazine
Fourth record from this U.K. based Hard Rock/ Heavy Metal act, no less! STAIRWAY is undoubtedly a hard working band considering that they've been around since 1992 and unlike many other acts, they never gave up on playing traditional Hard Rock!

It's obvious that they have a lot of experience behind them when you listen to stuff such as "Sea Of Fools", "Taste The Blood" (my personal fave), "Soldiers Of Heaven" etc&ldots; Their brand of semi accessible Heavy Rock is definitively highly convincing and effective for the most part&ldots; the majority of the stuff here is very very good -if you like your stuff with a good dose of melody (without sounding happy at all!) ala early DIO, RAINBOW etc&ldots; Singer Graeme Leslie reminds me of Doug Adams (ACCEUM, WITCHKILLER, RECKLESS) sometimes, pretty good job.
The sound is rather good, there's some flaws here and there like is often the case with self financed efforts but hell that's about as much as you can do with a restrictive budget. This band simply deserves way more support than the likes of the resurfaced CLOVEN HOOF and the likes, no doubt.
Mario's Metal Mania
www.mariosmetalmania.com
This is honest, simple heavy metal. No difficult turnings, no trying to impress by playing power. No! Saxon and Tony Martin style Black Sabbath, straight forward music. The big difference is the vocals. They are very much in AOR style, melodic and multiple where possible. That makes me think of old Axe and Balance, only heavier. There are not a lot of bands that I know who do it this way. That might be in favour of Stairway. Why? Because that line up of Black Sabbath doesn't exist anymore. And, because these guys do know how to write a good tune, and how to make it sound good. Like with Midnight Storm I wonder why the record companies are ignoring this band in favour of those crappy ones. Time to make amends!
Hard Rock Haven
www.hardrockhaven.net
Stairway comes from Britain with its fourth full length release entitled The Other Side of Midnight. For those unfamiliar, their brand of music is British power metal. The band members though are devoted Christians that approach evil topics from the opposite side of the fence, quite a refreshing idea nowadays.
Some refer to this emerging genre as White Metal. The ingredients are simple: there are hard charging catchy riffs, a gruff classic vocal delivery and the occasional aggressive guitar lead or solo.
Most of the time, this is done very well like the first track "No Mercy," where Graeme Leslie sings well and the solo is strong and full of zest.
When asked about the meaning of the album title, Graeme stated in an interview with Metal Coven Fanzine "The title and cover represents Heaven as an open door through which we all can pass, provided we keep our eyes on the eternal and not on the temporal; This side of midnight – where we are now, is the temporal, The Other Side Of Midnight is the eternal. Midnight, or death, is the point between the one and the other."
Don't be mistaken though. These guys get down and dirty, as the music is eerie and dark at times representing evil in its purest forms with the slow riffs, hook and vocals of old. The best example is "Burn," a song that could hold its own versus the best of the NWOBHM bands of old. The style of the song is almost like Heaven and Hell Black Sabbath days or even Rainbow; both eras heavily influenced by Ronnie James Dio. Half the way through the band lets loose on an almost Saxon like ride that makes the song so special. Leslie's vocals are the best of the whole record here, as he is forced to change speeds faster then a road course racer. The solo is quick and ferocious but layered nicely for maximum effect.
Other great solos are the two in "Taste the Blood" where these guys really let loose and show their true axe mettle.
Folks this album is nearly an hour long and is chock full of meaningful kick butt power metal. If you want some spirituality for a change without losing any of the quality of old Priest or Saxon, pick this up and experiment with the light side.
No Life Til Metal
www.nolifetilmetal.com
Refusing to give into trends, Stairway return with their fourth studio release of unashamedly, pure and simple British Heavy Metal.
Stairway continue to combine elements of straightforward hard rock and heavy metal without a trace of concern for trendy modern power metal or modern rock.
In other words, you won't hear any stop/start riffs or down tuned guitars here. Instead, this band proudly fly their classic metal flag high.
Stairway are nothing if not consistent. To some this might sound like a bad thing, but to any long time Stairway fan, or fan of quality classic heavy metal, this is exactly what we want from this band.

Despite words like consistent and simple, however, "The Other Side of Midnight" is not boring or mediocre. Rather, Stairway offer up plenty of diversity from track to track.
"Burn" starts off as a slow brooding number with a Dio-era Black Sabbath feel to it and builds up to a more upbeat number. "No Mercy" and "Soldiers Of Heaven" are upbeat, heavy rockers, "Taste The Blood" is a slightly more epic number, "She Calls" has a bluesy feel to it, and "Cantabile" is a moody, melodic instrumental. with a bit of a Michael Schenker flare to it.
Vocalist Graeme Leslie has improved with each new CD. Here he adds a bit more grit to his usual, mid-toned, clean vocal style. The lyrics from this band remain positive and spiritually focused.

Overall, "The Other Side of Midnight" is Stairway's best release thus far and should please any fan of early 80's NWOBHM style.